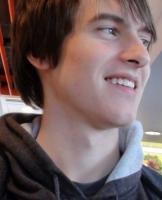 Derek "Pokii" Viars
, is one of the few Advisors of GPX+. Formerly a moderator, and an avid sprite designer, Pokii has the honor of having two
Novelty Pokémon
directly inspired by him:
Cloysterman
, based off his winning design for the January 2010
Dress Up Contest
, and
Pokii
, based off of his forum avatar, first released on January 28, 2010, his birthday. He is credited with the design of numerous Novelties:
Zergoose
,
Dracowymsy
,
Shadow Lugia
,
Remorage
and Octillerage,
Shellderboy
and Cloysterman (the actual Novelty Pokémon),
the Starter Clones
,
Valentacool
and Valentacruel, and
Summer Swinub
, Summer Piloswine, and Summer Mamoswine. Pokii also designed the second versions of the sprites for
Slime Slugma
and Slime Magcargo.
The Achievement "Hot Pocket Love" requires the user to breed a Pokii True Form with a Zergoose, an inside joke between Pokii and GPX+ Administrator Zerxer.
What?! Joltik is evolving!


This article is a stub. You can help GPX+ Wiki by expanding it.